Clarity-Chromatography Software
Clarity provides a universal data handling and control solution for almost any commercially available chromatograph:
Clarity is an advanced Chromatography Data Station (CDS) with optional software modules for data acquisition, processing and instrument control.
Its wide range of data acquisition interfaces (A/D converters, LAN, USB, RS232) allows connection to any GC or LC chromatograph.
Up to four independent chromatography systems can be simultaneously connected, each can acquire up to 32 signals.
See examples of Clarity configurations.
Clarity Control modules provide integrated control of selected instruments such as GCs, pumps, detectors, autosamplers, etc.
Clarity software Extensions provide functions for specific separation techniques such as PDA, GPC analysis, Mass spectrometry or SST.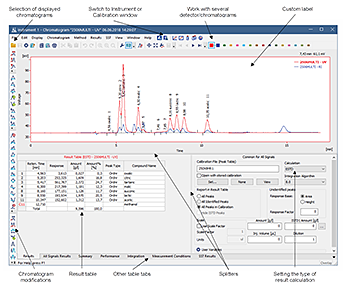 Clarity2Go in your iPhone or Android powered mobile devices allows you to monitor running analyses from multiple installations of Clarity.
Download the Clarity Demo Version today and see for yourself or select one of the links below to learn more
Contact us today for a competitive Clarity quotation.